I've been making a variation of this stew quite a few times and it has always turned out excellent. It makes a great base for Beef Pot Pie or just in bowls by itself. You'll have to refer to the original link for the original instructions, I'll reproduce here my variation on it since I've been bragging about it to friends and family.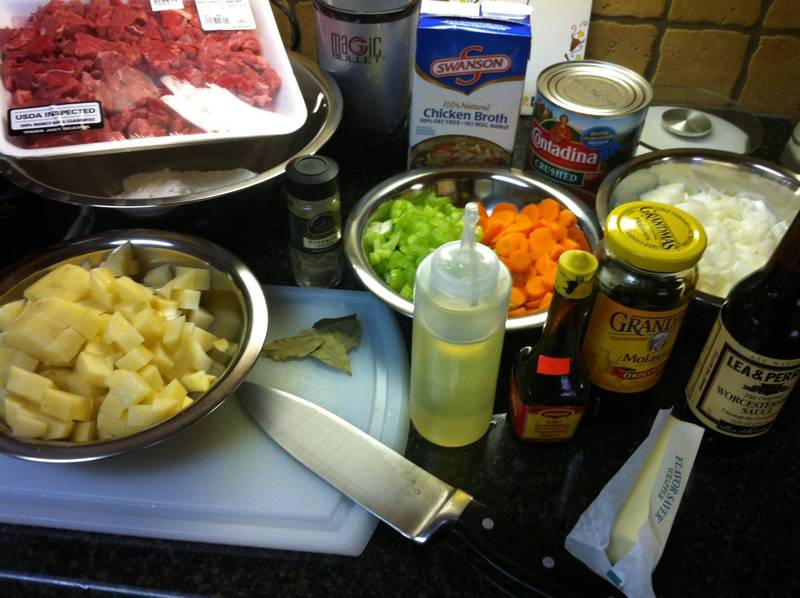 Kosher salt and freshly ground black pepper
~4+ tbsp all-purpose flour
~2 lbs beef chuck for stew, cut into 1-inch cubes
~3 tbsp butter / oil
---
~1 cup carrots, sliced thin
~1 cup celery, sliced
~2 cup onions, diced
---
~4 cups chicken broth
~3 sprigs fresh rosemary / ~2 tsp dried / crushed
~2 cups dry red wine (optional)
~1 cup canned crushed tomatoes
---
~2 bay leaves
~1 tsp worchestershire sauce / A-1
~1 tbsp soy sauce / "Salsa Maggie"
~2 tbsp molasses
---
~3 cup russet or Yukon gold potatoes, cubed, ~1/2 inch
---
Pillsbury Croissant Dough / Frozen Pie Crust
Loaf Pan / Casserole dish
Use large (~6 quart) stock pot.
Mix flour, salt, and pepper (to taste).
Flour beef and brown in butter / oil over medium heat.
Try to have only one layer of meat on the bottom of the pan at a time, it has taken me two batches where you have to flour and add oil each time.
You will see the flour begin to "toast" at the bottom of the pan so it begins to form a roux… but avoid burning it!
Remove beef and reserve.
Add more butter / oil, veggies (carrots first), and the remaining flour from the meat.
The veggie measurements are more "ratios" than exact measures, depending on how hearty you like your stew.
Stir to coat vegetables in flour and oil, cook until flour begins to disappear.
Slowly add a small amount of chicken broth, scraping the toasted flour from the bottom of the pan to integrate it with the broth.
Continue slowly adding broth, scraping clean the bottom of the pan.
Add wine (optional), tomatoes, rosemary.
If not adding wine, be sure to add more liquid… wine, broth, beer, tomatoes, whatever.
To flavor the broth to be "beef-appropriate", add the "Salsa Maggie" / soy sauce, worchestershire / A-1, and molasses.
Bring to boil, skim any "foam".
Add reserved beef, bring to boil.
Simmer ~45m, stirring occasionally.
Add cubed potatoes, cover, simmer 45m more, stirring, occasionally.
To make "Pot Pie"
Arrange croissant dough at the bottom / sides of the loaf pan.
Bake 350F ~5-10 minutes to firm dough.
Scoop in hot stew on top of partially baked dough.
Cover with more dough.
Return to oven at 350F until top is golden brown.
If using a casserole (or in any case) you can omit the bottom layer of bread / dough and just cover the top and bake until golden brown.
14:50 CST | category / entries / recipes
permanent link | comments?